Central Air Conditioning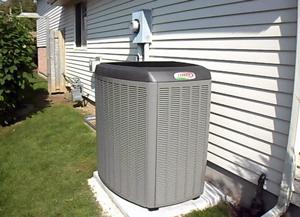 Enjoy top quality, high-efficiency cooling for your home with central air conditioning products from AEM Mechanical Services, Inc.
Measuring Energy Efficiency for Air Conditioning Units
'SEER' stands for Seasonal Energy Efficiency Ratio, which is a measurement of an air conditioner's cooling energy efficiency. It is a very simple system to follow; the higher the SEER number the more efficient and economical the system is to operate!
The Anatomy of a Central Air System
The central air conditioning unit typically is part of a forced air heating system, sharing the duct work and blower. The condenser usually sits outside of the home; it's job is to cool the liquid refrigerant.
The cooled refrigerant is then pumped into the home where evaporator coils are located inside of the shared components of the furnace.
The central air unit works by blowing the air from the house over the cooled coils. The coils act as a heat exchanger and remove the heat from the air before circulating it throughout the house.
The warmed liquid coolant then changes into a gas and is pumped back out to the condenser; starting the process over again.
Central air units can be 'retro-fitted' to your existing heating system, or installed with a new system. It is also possible to install a central air system where no forced air heating systems exist to share components with. Call us today to discuss the options available to you.
Quotes are free . . . our commitment to quality is real!
For immediate residential heating and air conditioning service . . . Call us today!

Proudly Serving Hutchinson, Minnesota & Surrounding Communities.