Do You Have Radon Gas In Your Home?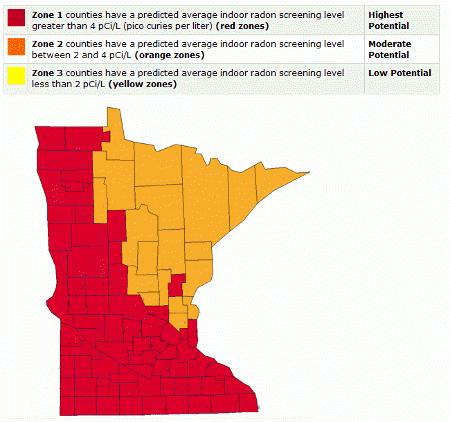 Radon is a colorless, odorless and radioactive gas generated from the radioactive decay of naturally occurring minerals in the soil.
What Is The Danger Of Radon Gas?
Radon gas breathed into your lungs can cause cancer. The Surgeon General has issued a warning stating that radon gas is the second leading cause of lung cancer.
A large number of Minnesota counties (including those in our area) have a predicted average indoor radon screening level greater than 4 pCi/L.
Radon that has leached into your home can accumulate putting your family at risk.
How Does Radon Leach Into My Home?
Radon gas naturally rises out of the ground. As it rises under your home it will follow the path of least resistance entering your home through cracks in the basement floor, basement walls or through gaps in the concrete slab for plumbing and sump pumps.
How Do I Know What the Radon Level Is In My Home?
There are three basic types of test kits available to test your home for radon.
The first type of kit is for a quick check.

You hang a test kit up in your basement (or first level of a home with no basement)
for 3 to 7 days.
Place the kit in the postage paid envelope and send it to the lab.
Results will be mailed and e-mailed to you.

The second type of test is a much more thorough test that takes one year to complete.

Typically this test is suggested after taking the first test and finding a level of Radon that is a concern for the health of your family.

The third test kit is an electronic test that can be used to measure short or long-term levels of Radon depending upon the length of the monitoring period. AEM Mechanical Services, Inc. has an electronic test kit available for rent.
What Can I Do To Reduce The Danger Of Radon In My Home?
There are some remedies to address the problem of Radon in your home. It is best to work with a contractor like AEM Mechanical Services, Inc. that has experience in Radon Mitigation.
The most common way to deal with Radon in the home involves a series of pipes and fans to provide the Radon Gas with a safe path exhausting the gas out a vent above your home.
The exact way your home will be relieved of Radon Gas issues will be determined by the construction of your home and result of your radon test.
Quotes are free . . . our commitment to quality is real!
For immediate radon gas detection and remediation service . . . Call us today!

Proudly Serving Hutchinson, Minnesota & Surrounding Communities.