The Best Investment is to Protect Your Investment!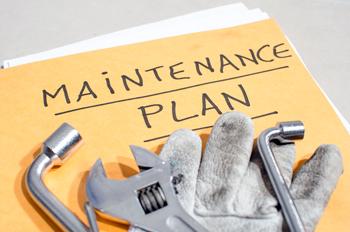 There is nothing you can do to extend the life of your heating and air conditioning equipment that is better than annual maintenance!
An annual maintenance call each year allows your system to work at peak efficiency all year round. Systems that are maintained annually experience fewer breakdowns!
Many HVAC equipment manufacturers are offering longer standard warranties, typically 5 - 10 years on parts. However, warranty claims can easily be refused by a manufacturer if the equipment owner cannot provide documentation of annual equipment maintenance.
You will enjoy the peace of mind in knowing that your equipment is well maintained and running at peak efficiency saving you money on utility bills and emergency repair calls!
A Powerful Example
One of our clients* started putting off regular maintenance on their equipment to save money.
A blower belt worth $15 broke damaging the evaporator coil, wiring harness, and control circuit board. The resulting repairs totaled $1900!
Regular maintenance saves money and prevents expensive down-time.
*Client name withheld for privacy.
What Your Planned Maintenance Program Includes and How It Will Benefit You!
Annual Maintenance Visit Includes:
Check evaporator coil
Monitor expansion valve
Clean evaporator drain
Adjust bypass dampers
Check filters
Tighten electrical connections
Evaluate safety controls
Measure temp difference
Clean condenser coil
Check thermostat operation
Lubricate fan motor
Check fan blades for tightness
Check start & run capacitors
Check start & run delays
Monitor refrigerant level
Adjust operating pressures
Measure voltage differences
Measure amperage draw
Clean and adjust burners
Evaluate vent system
Set burner adjustment
Set manifold pressure
Test fan limit switch
Clean blower wheel as necessary
Inspect valves
Check flue
Check flame baffle
Clean combustion
chamber
Clean heat exchanger
Check combustion air
Benefits of Your Planned Maintenance Program
Reduce cooling costs
Reduce heating costs
Improve equipment efficiency
Add years to equipment life
Improved dependability
Healthier air quality
Protects your home - safe equipment operation
Quotes are free . . . our commitment to quality is real!
For immediate commercial or residential preventive maintenance service . . . Call us today!

Proudly Serving Hutchinson, Minnesota & Surrounding Communities.