The Dangers of Carbon Monoxide (CO) In Your Home.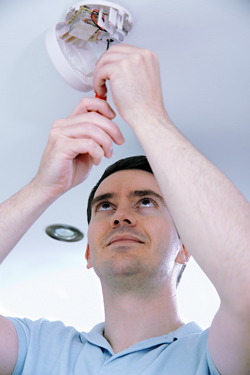 Carbon Monoxide is an odorless and colorless gas that is most often formed in the process of incomplete combustion of organic substances, including fuels. Potential sources of Carbon Monoxide in your home are your furnace, hot water heater, stove, oven, automobile and fireplace. Using a power generator or kerosene powered space heater without proper ventilation is another leading cause of CO exposure.
Why Should I Be Concerned About Carbon Monoxide in My Home?
CO can build up to dangerous concentrations indoors if fuel burning sources are not properly vented, maintained and operated. It is estimated that 500 deaths in the U.S. each year are caused by CO poisoning, with an additional 8,000 to 15,000 people being treated annually for CO poisoning. Exposure to low levels of Carbon Monoxide over time also causes other medical conditions. (Facts stated here are from the Minnesota Department of Health.)
What Can I Do?
The best line of defense is to actively prevent CO exposure at the source. Properly maintain your in home appliances and HVAC equipment. Damaged or worn internal components can be a major source of CO leakage. We suggest having your furnace looked at and cleaned by a professional once a year as regular preventive maintenance. Other benefits of proper maintenance are lower repair costs over time and lower utility costs.
In addition to proper maintenance, you should install quality CO detectors in your home. Make sure to regularly replace batteries and test your detectors.
Pay attention to symptoms of family members living in your home. If you suspect possible CO poisoning, get out of the house immediately and seek medical treatment.
Quotes are free . . . our commitment to quality is real!
For immediate Carbon Monoxide detection and remediation . . . Call us today!

Proudly Serving Hutchinson, Minnesota & Surrounding Communities.