Commercial Process Piping Maintenance, Repair and Installation.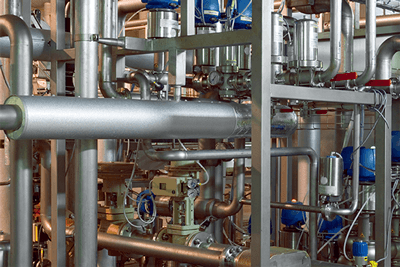 Having a problem with your manufacturing plant's process piping can force your business to temporarily shut down, which not only has a negative impact on productivity but also on the customers you are servicing. Make sure you can rely on the process piping systems within your facility. Contact AEM Mechanical Services for your annual preventive maintenance needs, we will evaluate and assess the condition of your process piping systems and suggest any repairs or replacements that are necessary to protect your business.
Avoid production losses due to leaking pipes, failed control fixtures and other process piping elements by contacting us for process piping maintenance and repair.
AEM Mechanical Services, Inc. wants to meet your commercial process piping needs now and in the future. You can expect timely service, personal attention and fair pricing along with the best quality of service possible. With our expertise, vision and skills you can rest assured your commercial plumbing systems are
in good hands.
Experienced commercial plumbers
With the combined experience of our technicians, we can quickly identify and solve all your commercial process piping problems. AEM Mechanical Services, Inc. has the experience you need to help you avoid sleepless nights worrying about your manufacturing businesses. We understand the high cost of downtime and what it can cost your business.
Our experience includes working with:
Chemical Piping
Compressed Air
Steam
Hot/Cold Water Piping (for heating or manufacturing process)
Pressure Regulation
Remote Flow Control
Automatic Flow Control
Distribution Manifolds
By hiring AEM Mechanical Services, Inc., you can count on getting every element of your project completed on time without having to compromise on quality.
Quotes are free . . . our commitment to quality is real!
For immediate commercial plumbing & process piping service . . . Call us today!

Proudly Serving Hutchinson, Minnesota & Surrounding Communities.