Feel Good Inside with a Whole House Humidifier
Maintaining a good humidity level in your home is important for the health and comfort of your family, not to mention the maintenance of your home. An excessively dry home can lead to a variety of discomforts ranging from dry skin to a higher risk of cold and flu. Many people suffer from frequent nose bleeds in the winter months as a result of the dry air. Low humidity in your home can cause problems with static electricity, cracks in wooden furniture and peeling wallpaper or paint.
A whole house humidifier can help you remedy problems caused by excessively dry air. Naturally there are several models available, AEM Mechanical Services will help you select the right model depending upon your specific needs including things like the size of your home, age of your home, etc.
A common unit that meets the needs of many home owners is the Aprilaire Model 600 whole house humidifier. Easy to use with automatic controls, it can also be set to manual control when needed.
Delivers up to 50% more moisture in comparison to competitive units.
Has an evaporation rate capacity of 0.70 gallons per hour.
Humidifies tightly-constructed homes up to 4,000 square feet.
How humidity relates to the perceived temperature of the air in your home.
The EPA states that you can save 4% on your heating bill for every degree you lower your thermostat setting. The more humidity there is in the air, the warmer it feels at a given temperature. The less humidity there is in the air, the cooler it feels at a given temperature. The ideal humidity level for the air in your home is between 35 - 55% relative humidity.
Buy maintaining the proper humidity in your home during the winter you can lower the thermostat temperature and still maintain the comfort level of your home. The goal is to maintain a temperature and humidity combination that allow you to feel comfortable and eliminates or reduces conditions that are negative for your family's health and your home.
The chart below illustrates the relation between humidity, air temperature and perceived temperature.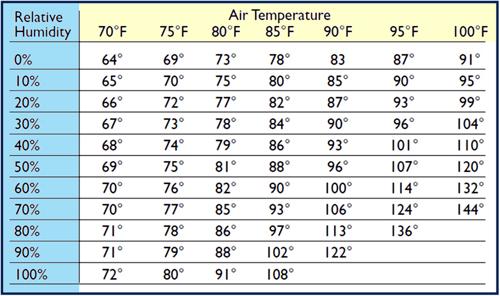 Source: "Human Comfort: Opportunities to Expand the Impact of Your Infrared Diagnostics," Tom Wilson, Residential
Energy Services, Thermal Solutions.
Choosing the right humidifier for your home is an important decision, we only carry top quality whole house humidifiers. The experienced team
at AEM Mechanical Services is ready to help you today
Quotes are free . . . our commitment to quality is real!
For immediate residential whole house humidifier service . . . Call us today!

Proudly Serving Hutchinson, Minnesota & Surrounding Communities.