Krystal Klear Water
AEM Mechanical Services, Inc. offers two alternative solutions for traditional water softener units. The Krystal Klear Water DeScaler SP4000 is a point of service solution and the Whole House Filtration Unit is a whole house solution for your hard water and water filtration problems.
Krystal Klear Water Electronic DeScaler SP4000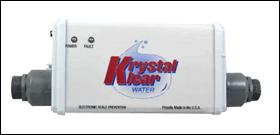 Hard water is high in dissolved minerals - mostly Calcium & Magnesium Bicarbonate. While they are not a health risk, they are a nuisance causing buildup in your plumbing fixtures and appliances. Water with high mineral content is difficult to mix with soaps and detergents leaving you with dry skin, unmanageable hair and dull looking clothes.
The SP4000 features a schedule 80 CPVC threaded fitting that attaches to a copper or PVC 3/4" or 1" matching fitting. It operates using high frequency electronic pulses that change the chemical state of the Calcium & Magnesium from Bicarbonate to a Carbonate structure. It can handle hard water up to 60 grains per gallon.
This puts the Calcium & Magnesium into a form that helps to eliminate scale build-up in your plumbing fixtures and appliances.
Key Benefits to You - The Homeowner
Prolongs the life of your appliances, dishwasher, faucets, pipes and hot water heater by reducing scale build-up.
Makes ugly mineral deposits easy to remove.
Does not damage the magnesium anarod in your hot water heater.
Saves money on soap, detergents and body lotion.
No maintenance required.
Increases efficiency of water heater and other major appliances.
Prevents clogging of showers and faucets.
Uses no salt or chemicals.
Made in the U.S.A.
Krystal Klear Water Whole House Filtration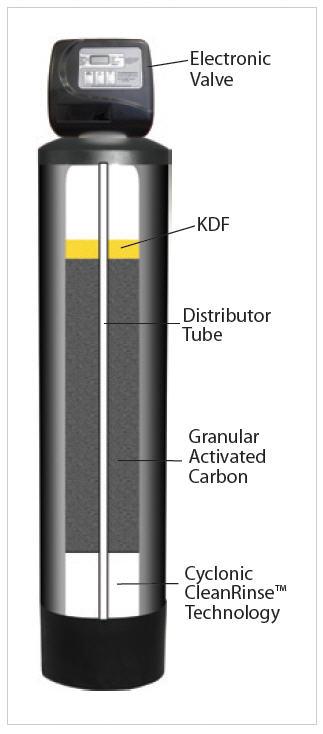 The Krystal Klear Filtration unit is not your traditional water softener. A traditional softener system will not remove chlorine, contaminants, heavy metals or any pollutants. The Krystal Klear system does!
This whole house filtration system substantially reduces Heavy Metals, Lead, Mercury, Iron, Zinc, Copper, Arsenic, Volatile Organic Compounds, Pesticides, Herbicides, Triholmethans, MTBE, Solvents, Most Organisms, Chemicals, & Poisons and controls Micro -Organisms. Constructed with the latest technology to work better and last longer.
Guaranteed for a full five years and is maintenance free. No filters to replace, no salt to continuously add to the system.
Key Benefits to You - The Homeowner
Delivers clear, clean water to every faucet & shower in the home.
Treats the water you drink, cook, clean and bathe with.
Removes bad taste and odor by removing chlorine and volatile organic compounds found in tap water.\
Makes hair softer and more manageable.
Leaves laundry brighter and cleaner.
Uses no chemicals like salt or potassium.
Healthier, better tasting drinking water.
Improves the taste of food, juice, coffee and tea prepared with tap water.
Cleaner dishes and china.
Reduces dry skin leaving skin feeling smoother.
Quotes are free . . . our commitment to quality is real!
For immediate residential heating and air conditioning service . . . Call us today!

Proudly Serving Hutchinson, Minnesota & Surrounding Communities.