AEM Mechanical Services, Inc. offers quality Water Soft Inc. ISOBAR series water softener units to deal with your hard water problems.
Water Soft Inc. ISOBAR Series Water Softener

Hard water in your home can create many problems for you and your family. Water that is rich in minerals and other contaminants make it difficult to properly dissolve and mix with detergents and soaps leaving you with dry unmanageable hair, dry skin, dull -water stained dishes and dingy clothes.
The ISOBAR series water softeners feature the exclusive ISOBAR® II control providing you with easy electronic programing with a slide cover, requiring no tools to access.
Key Benefits To You
Softer skin & hair.
Brighter clothes.
Use less soap to get more lather.
Makes cleaning easier - using less household cleaners.
Reduces spots on dishes or fixtures.
Extends the life of your appliances and hot water heater.
How Does A Water Softener Work?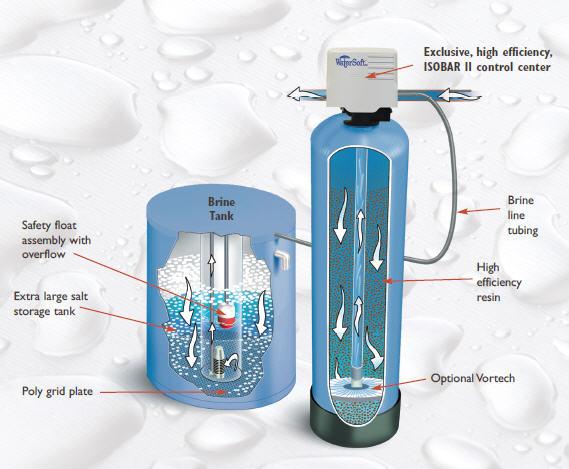 The body of a water softener is a tank containing resin beads. The beads are covered with sodium ions. As the hard water passes through, the resin beads act like a magnet, attracting the calcium and magnesium ions in exchange for the sodium ions.
Eventually the resin beads become saturated with mineral ions and have to be "re-charged". The regeneration process is controlled by the control valve on top of the tank.
During the regeneration process, a strong brine solution is flushed through the resin tank, bathing the resin beads in a stream of sodium ions replacing the accumulated calcium and magnesium ions.
The brine solution, carrying the displaced calcium and magnesium ions, is then flushed down the drain by fresh water. The regenerated resin beads can be used again and again.
Quotes are free . . . our commitment to quality is real!
For immediate residential water softener service . . . Call us today!

Proudly Serving Hutchinson, Minnesota & Surrounding Communities.