Sump pumps are an Electrically powered pump that is placed in the basement of your home to move water from the basement to the outside of your home.
The majority of basement waterproofing systems rely on the sump pump as the last piece of the system. It removes the water from the sump basket located in your basement floor.
Your home's waterproofing system may be a simple sump basket located in the basement where the water accumulates. You may also have other systems tied into your sump basket. These may be a below ground tiling system located just below the floor of your basement or an above ground water drainage system located at the baseboard of the effected walls in your basement (often called a beaver system).
If your sump pump fails, you will get water in your basement. An annoying problem for unfinished basements and a costly problem for basements with finished floors and walls. It is important to make sure your sump pump is working properly.
There are several sump pump solutions offered by AEM Mechanical Services, Inc.
Pedestal Sump Pump
The Liberty Cast Iron Pedestal Sump Pump is capable of protecting your home from unwanted water in your basement.
1/3 horse power with automatic thermal overload protection
Adjustable level control for most efficient pumping operation.
Double inlet screening to prevent clogging.
High-strength cast impeller for impact and abrasion resistance.
Extra large base for stability
Exclusive shaft seal to isolate bearing from impeller cavity.
Flexible shaft coupling for quiet vibration-free performance.

Submersible Sump Pump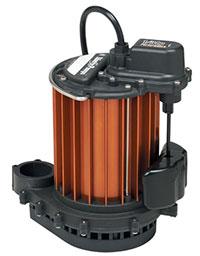 The Liberty 230 series submersible sump pump is an energy saving model fully capable of keeping the water out of your basement. This is the pump of our choice between the Pedestal Pump and Submersible Pump.
Deep finned Powder coated aluminum motor housing provides 225% more cooling capacity than the cast iron housings.
1/3 hp with 1 1/2" discharge and 3/8" solids discharge.
Polypropylene and powder coated aluminum construction.
Stainless steel rotor shaft
All fasteners are non-corrosive
Permanently lubricated upper and lower bearings.
Quick-disconnect 10' standard power cord with a 25' optional length available.
Battery Powered Emergency Sump Pump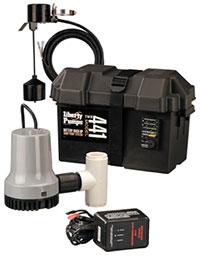 The Liberty Emergency Sump Pump System - 12V Battery Operated, allows you the peace of mind knowing that your basement is protected during power failures and in the event your main pump fails.
Works Automatically when power fails.
High Output 12 volt submersible pump.
Automatic, mercury free switch.
Control panel.
Battery Box and Strap
12 Volt Charger
Tee, check valve and bushings for 1 1/2" or 1 1/4" connections.
Features automatic start-up.
Advanced 5-stage charging system
Audible in-use alarm and light.
Water Powered Emergency Sump Pump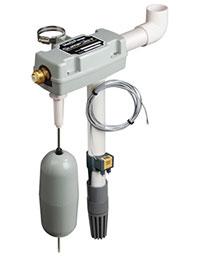 The Liberty Sump Jet emergency water powered back-up system will keep your basement dry through the longest power outages. It is important to note that if your water supply is from a well pump, this system will not function during power outages.
Requires no electricity.
Accepts from 20 PSI up to 100 PSI inlet supply pressure.**
Fully automatic.
High output flow rates.
Compact design.
Fully assembled.
1 1/2" discharge.
Works off municipal water supply.
3/4" NPT water inlet connection.
**Pumping performance varies with inlet water source pressure.
Sump Pump Alarm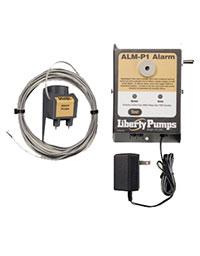 The Liberty ALM-P1 Alarm with probe sensor will alert you when your sump pump has failed, allowing you to immediately address the issue and protect your basement from water.
Indoor alarm.
115 volt system.
9V battery backup.
Compact probe mounted sensor.
Attaches to 1 1/4" or 1 1/2" discharge pipe.
Auxiliary contacts.
Visual and audible alarm.
Ask about other alarm models that offer a dialer for alarm notification when you are away from your home.
Quotes are free . . . our commitment to quality is real!
For immediate residential sump pump service . . . Call us today!

Proudly Serving Hutchinson, Minnesota & Surrounding Communities.