Type I Proximity (Backshelf) Grease Exhaust Hood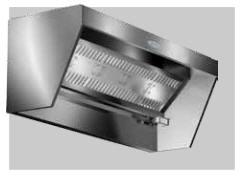 Our grease hood of choice, the Greenheck proximity hoods, have an industry leading five dimensions of adjustment which make them the perfect solution for low ceilings and light and medium duty cooking applications.
The Greenheck proximity hood sits close to the stovetop allowing for lower exhaust rates and smaller hoods. Proximity hoods are for grease and heat laden effluent and are shorter in height and depth than a canopy hood.
The word "proximity" or "backshelf" refers to the close location of the hood with respect to the surface of the stovetop. They also have an optional plate shelf and/or pass-over enclosure to meet your varying design constraints.
Additional models are available to meet your specific needs.
Quotes are free . . . our commitment to quality is real!
For immediate residential kitchen exhaust hood service . . . Call us today!

Proudly Serving Hutchinson, Minnesota & Surrounding Communities.