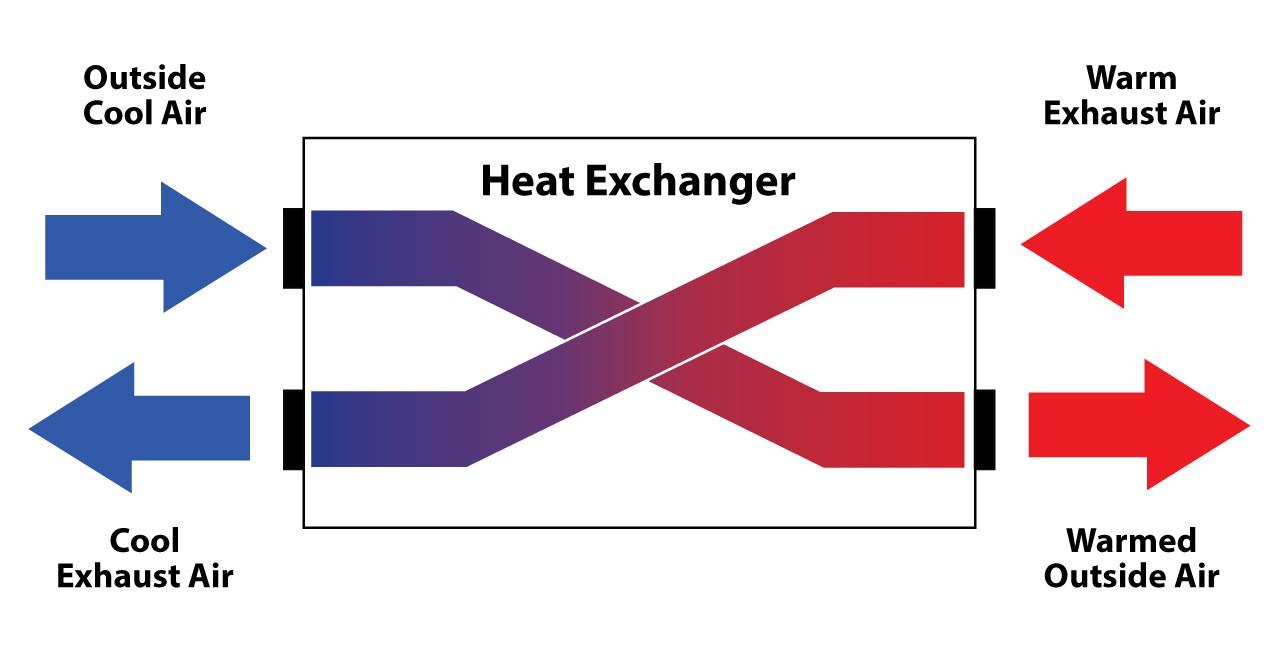 Reduced Energy Consumption Means Savings
Energy recovery is the process of transferring energy from a buildings air exhaust by using it to precondition the incoming air from outside. During warmer seasons the system pre-cools and dehumidifies incoming air, while it warms and humidifies incoming air during cool seasons. Benefits of energy recovery are:
Reduces Energy Consumption
Reduces Total HVAC Equipment Capacity
Improves Indoor Air Quality
Saves Money
Protects The Environment

Transfer Methods
Energy Recovery Ventilator (ERV)
This is a type of air-to-air heat exchanger that transfers both sensible and latent heat, meaning both temperature and moisture are transferred.
Heat Recovery Ventilator (HTV)
This method of transfer can only transfer sensible heat, moisture is not transferred.
Throughout the cooling season the system takes the rejected heat and sends it into the exhaust air-stream cooling the condenser coil at a lower temperature than it would have had the rejected heat not been introduced into the exhaust airflow. During the heating seasons the system draws heat from the exhaust air-stream, preheating the incoming air. The Coefficient of Performance (COP) increases as the conditions become more extreme. This means that the hotter and more humid the air is for cooling and the colder the air for heating, the more efficient the system becomes.
Types of Energy Recovery Devices
There are a variety of energy recovery devices available for you to use. Some of which offer higher COPs than others.
Rotary Air-To-Air Enthalpy Wheel (Sensible and latent heat transfer.) The rotating wheel heat exchanger is a rotating cylinder filled with air permeable material. The surface area of the material is the medium for the sensible heat transfer. The latent heat is transferred through the absorption of moisture using desiccants such as silica gel and molecular sieves.

Plate Heat Exchanger (Sensible and latent heat transfer.) Fixed plate exchangers have no moving parts and consist of layers of plates that are separated and sealed. They are only capable of sensible heat transfer. the latent transfer is accomplished by via a heat recovery core where humidity levels are adjusted by transferring water vapor through a rotating wheel containing a desiccant material.

Heat Pipe (Sensible only.) Transfers heat between two solid interfaces. On the hot side a fluid in contact with a thermally conductive solid object turns into vapor as it absorbs heat. The vapor travels through the heat pipe to the cold interface and condenses back into a liquid, releasing the latent heat.

Run-Around Coil (Sensible only.) This is most often positioned within the supply and exhaust air streams. This is used to transfer heat from two sources that are not directly connected.

Thermosiphon (Sensible only.) A method of passive heat exchange based on natural convection that does not require a mechanical pump. This is best thought of as "heat rises". Warmer fluid rises within the system while cooler fluid sinks below the warm fluid driven by gravity.
Setting aside all the technical jargon and complexities, energy recovery is simply a way to utilize wasted heat energy to precondition incoming air allowing it to require less energy to achieve the end result of heating or cooling your indoor air.
For help recovering lost heat energy in heating or cooling your commercial facility, call AEM Mechanical Services, Inc. at 320-587-0991.